There is power in numbers!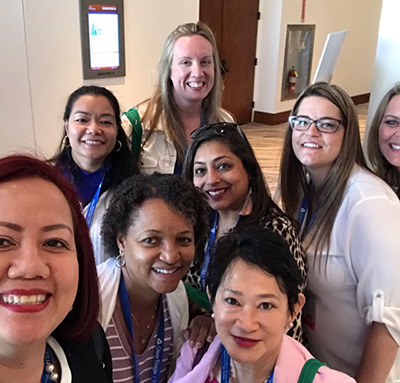 By recruiting new members to join the American Academy of Ambulatory Care Nursing (AAACN), you help strengthen our organization and the ambulatory care nursing specialty.
Increased AAACN membership means increased recognition of the specialty and enhanced educational opportunities for you. Share the benefits of AAACN membership with your colleagues through the Member-Get-a-Member Campaign and you could earn big rewards.
In 2021, 98 AAACN members recruited 114 new members during the 2021 Member-Get-A- Member Campaign. Thank you to all of our members and a special welcome to our new members, AAACN has over 4,100 members and will continue to grow with the help of our members.
AAACN's Member-Get-a-Member Campaign runs annually from April 1 through December 31. Don't miss out on this great opportunity to earn money toward AAACN membership, products, or conference registration.
There is no better promoter of AAACN membership than you. We even make it easy for you - tell us who you'd like to invite to join AAACN by completing this online form, and we'll send your colleague an email that highlights AAACN member benefits and encourages them to join.
---
Recruiter Rewards
Recruit new members and you could earn rewards!
Monthly Prize: Each month, AAACN will hold a drawing and reward one recruiter who recruited a member in that month with a $50 AAACN certificate.* Winners will be announced in the monthly Email Newsletter.
Year-End Prizes: At the end of the campaign, additional prizes will be awarded. If you:

Recruit one member: Recruiter names will be placed in a drawing to renew one recruiter's membership for two years.
Recruit three (or more) members: You will receive a $100 AAACN certificate.*
One member who recruits the most new members (five or more): will receive complimentary registration to the following year's conference.
In the case of a tie, a drawing will be held to select a winner.
To be eligible for rewards, make sure your colleagues list your name in the "Who referred you to AAACN?" section on the membership application.
Rewards are calculated on NEW memberships from April through December annually. Monthly rewards are announced in the monthly enewsletter, and year-end rewards are announced in January.
---
How to Invite Colleagues to Join AAACN
---
Tips for Recruiting New Members
Recruiting new members is about sharing your membership experience with others.
Here are some suggestions to help you reach out to potential members and encourage them to join AAACN:
Share your copy of ViewPoint with colleagues to show them what they will receive in each issue.
Publish an article in your facility newsletter about why you belong to AAACN.
When new employees begin working in your facility, tell them how AAACN can help them transition in their new role.
Share the benefits of AAACN membership.
Forward AAACN emails to your colleagues to let them know how much value they will get as a member.
Invite a prospective member to attend the Annual Conference with you.
Give a gift of AAACN membership to your staff or colleague
Encourage colleagues to become certified in ambulatory care nursing and share how they receive discounts on study resources, contact hours, and exam and renewal fees.
Forward an engaging thread from a Connected Community conversation and let them know members ask questions, provide advice, share documents, and more!
*AAACN certificates may be redeemed for conference registration fee or to purchase products and resources.