The American Academy of Ambulatory Care Nursing (AAACN) Certification Review Course (CRC) will boost your confidence and knowledge as you prepare to take the Ambulatory Care Nursing Certification Exam.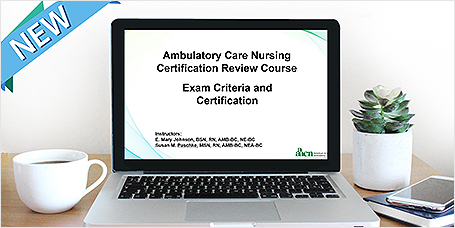 The course provides an overview of the potential content that may be tested on the Ambulatory Care Nursing Certification Exam.
It is a valuable opportunity to reinforce your knowledge of ambulatory care, identify your weak areas, and learn new information. All topics are offered in an interactive, case problem-solving style to enhance critical thinking.
Course content is based on the Test Content Outline for the Ambulatory Care Nursing Certification Exam.
This course does NOT grant certification in ambulatory care nursing.
AAACN offers the course in multiple formats to meet your learning needs. Learners may attend a live course at the AAACN Annual Conference or take the course online.
Need to get certified soon? The 2022 On-Demand CRC Course is available in the Online Library.

Purchase in the AAACN Online Library
If you have a group of nurses who are preparing for certification, you may want to host a virtual course for your facility.

Download the Certification Review Course Hosting Fact Sheet for more information.
Facilities may purchase Group Access for this course at a discounted rate to groups of 10+ via AAACN's Online Library.
Access 8 hours of session content, Power Point slides, and a printable PDF Syllabus. Each user can earn 8 contact hours for completing the course.
Group Access Pricing:
•    10-25 users - $215 per person
•    26-50 users - $203 per person
•    51-100 users - $191 per person

Download the Ambulatory Care Nursing Certification Review Course Group Access purchase form.
*Contact hours based on a 60 minute contact hour.
---
Not a AAACN member? Join today to receive the discounted member price on AAACN study resources.