The goal of the Leadership SIG is to develop and support ambulatory leaders. Leadership SIG members are diverse – from new leaders to seasoned experts.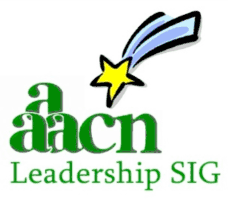 This SIG provides a forum for leadership development and mentoring of ambulatory nurses who are, or aspire to be, leaders.
The Leadership SIG was founded in 2004 by the American Academy of Ambulatory Care Nursing (AAACN) members who were interested in creating a forum to discuss leadership issues. Since that time, the Leadership SIG has grown to more than 1,900 members.
The Leadership SIG is run by a Chair and Chair-Elect, and maintains an Advisory Committee composed of long-term and newer members to provide a mix of history and fresh perspectives. All are volunteers with expressed interest in working with others to promote the purpose, vision, and goals of AAAC.
Chair
Heather Bogrett, MSN, RN-BC
Chair-Elect
Diane Woods, MSN RN
Past Chair
Sarah Kundrat, MSN, RN, CCRN-K
Board Liaison
Rachel Start, MSN NEA-BC RN
FAAN
Advisory Committee Members
Tabitha Anglea, MSN, RN, CCRN-K, LNC
Kelli Buckley, MSN, MBA, BSN, NE-BC
Pamela Del Monte, MS, RN-BC
E. Mary Johnson, BSN RN-C NE-BC
Anna Kiger, DNP, DSc, MBA, MSN, RN, NEA-BC
Aleesa Mobley, PhD, RN, APN, CPHQ
Cynthia Murray, BN, RN-BC
Aileen D. Oh, MSN, RN
Kimberly Regis, DNP, RN, PNP-BC
Sue Weiss, RN, MM, MHHSA
Diane Woods, MSN, RN
Each SIG has its own Community for all your networking needs, providing archiving of discussions, a document library, a search feature, digest options, customizable profiles, access to fellow SIG members, and more. The Community also adapts to the use of mobile devices. Take advantage of your most valuable membership benefit – convenient access to colleagues in your practice area.
Build Community and Content with your Colleagues - Enter a place for knowledge exchange, content curation, idea incubation, and professional networking.
Join the Discussion - Ask or answer questions with your peers. Our dynamic discussion forums provide the tools you need to communicate with leaders and partners in your field.
Browse the Document Library - Search and find content & media when you need it. Build a knowledge base of industry best practices, sample documents, spreadsheets, pictures, videos, and more.
To visit the Connected Community and/or join SIGs:
Log in as a AAACN member.
On the All Communities page, you will see all SIGs are you already part of, and options to join any SIGs you are not currently part of.
Click on your SIG(s) Communities to visit, or click "Join Community" on the right side of the page, select your email digest preference, and you're set!
Members of AAACN may join as many SIGs as desired. Join the conversation today!
If you have any difficulty getting into the community, please contact AAACN for assistance.